For the last two years, DFW Whiskey Club has helped raise money for the Honor Flight program. Honor Flight is a national network of independent Hubs working together to honor our nation's veterans with an all-expenses paid trip to the memorials in Washington, D.C., a trip many of our veterans may not otherwise be able to take. Participation in an Honor Flight trip gives veterans the chance to share this momentous trip with other veterans, to remember friends and comrades lost, and share their stories and experiences with each other. Last year, DFW Whiskey Club was able to help raise just over $10,000 for this honorable program.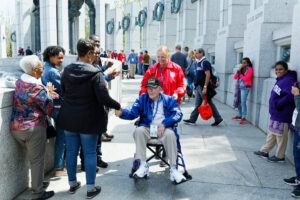 This year, we're very excited to announce Four Roses has stepped up and partnered with us so we might raise even more! The planning began almost a year ago when we reached out to Mandy, Lauren and Kelly from Four Roses to discuss how we could reach our goals. Thankfully, they were just as passionate about showing our nations veterans that we appreciate them and are thankful for them.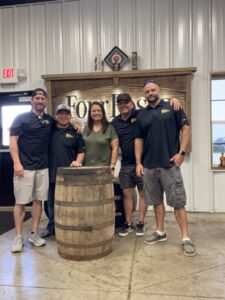 Mandy lined up all 10 recipes for us to blind taste. We quickly eliminated 4 barrels. Mandy then let us know how many of each "E" and "B" mash bills we had left but we still didn't know which barrels were which and we didn't know which exact recipes were remaining. We love that Four Roses keeps everything blind during the tasting. We realized, however, we preferred the "E" mash bills this day.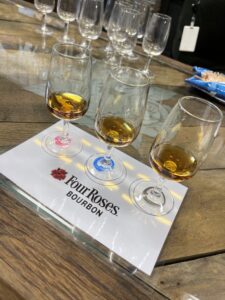 Finally, we narrowed it down to three barrels. We stepped out of the building and Mandy lined up the three remaining barrels for us to try blind. She gave each barrel a color so she would know which was which. What we didn't know at this point was we had a 10.6yr OESO from tier 3, a 10.4yr OESV from tier 6 and a 9.5yr OESQ from tier 6. All three of these barrels were exceptional.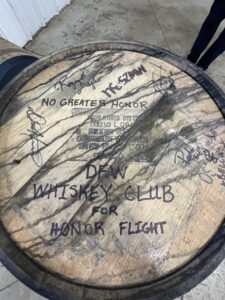 We wanted to narrow it down to two barrels of the remaining three. We unanimously blind picked the same two barrels for our top barrels. This was an extremely difficult choice. They both had an amazing nose... one had more creaminess on the palate and one had a slightly spicier and longer finish. We then asked what every group probably asks.... can we have both barrels? Unfortunately the answer was no. We had to choose.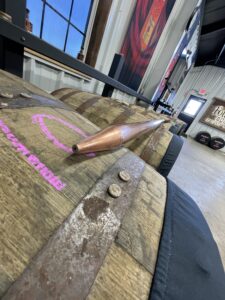 Mandy then suggested we dip the whiskey thief in the barrels to see which barrel had more whiskey so we would end up with more bottles to help raise money for Honor Flight. We all agreed this was the best way to go since both barrels were amazing.
It was an exciting experience and we're proud to announce we are bringing home an amazing OESO barrel! The barrel is scheduled to be bottled in July and we will keep everyone informed as a release date gets closer. We want to give a special thank you to Mandy and her team at Four Roses. The experience was exceptional and we're very thankful they are our partner in enriching the lives of our nations Veterans.